New board


On 07.10.22 the members of the association met for the election of the board. With Hartwig Bärnt a new 1st chairman was elected. Torsten Ströher, previous first, proposed Hartwig personally. Torsten will soon devote himself to the many open construction sites, which were the result of time-consuming work. However, he will continue to be at our disposal with words and deeds and will actively support the new first. The members thank him for his great commitment in the past years. Marion Müller (treasurer) and Steffen Palm (2nd chairman) were confirmed in their offices. The extended executive committee consists again of five further members. All election votes were unanimous.
Open memorial day 09-12-21
Some impressions:
Industrial monuments tell a story.
The gas machine centre of the former Maxhütte Unterwellenborn, built between 1921 and 1928, is one example from the rich canon of German industrial history. Driven by the blast furnace gas produced during pig iron production in the blast furnaces, 7 large gas machines produced blast furnace wind, compressed air for the Thomas steelworks and electrical energy here. Today, by the way, such processes of multiple energy use are called synergy...
Only a few witnesses remain of Maxhütte's eventful 120-year history. One of them is the gas engine control centre. Until the mid-90s of the last century, it stood in the middle of the huge Maxhütte site, but today, after the construction of the B 281 - Unterwellenborn bypass, it is open to all interested visitors.
Of the former seven large gas machines, the only one that has survived is the Gasdynamo III from the company "Thyssen & Co." with a flywheel generator from the company "Siemens & Schuckert" and today forms the centrepiece of the exhibition in the gas machine centre. In addition, there are a variety of material contemporary witnesses from the history of Maxhütten. In addition, the production process in today's Thuringia steelworks is documented by exhibits. The Kulturpalast Unterwellenborn e.V. association invites you to an interesting and exciting journey through an important chapter of German industrial history.
Ceremonial handover of keys to the Kulturpalast Unterwellenborn e.V. from the CEO of State Development Corporation of Thuringia, Mrs. Wosche, on 30.06.2021.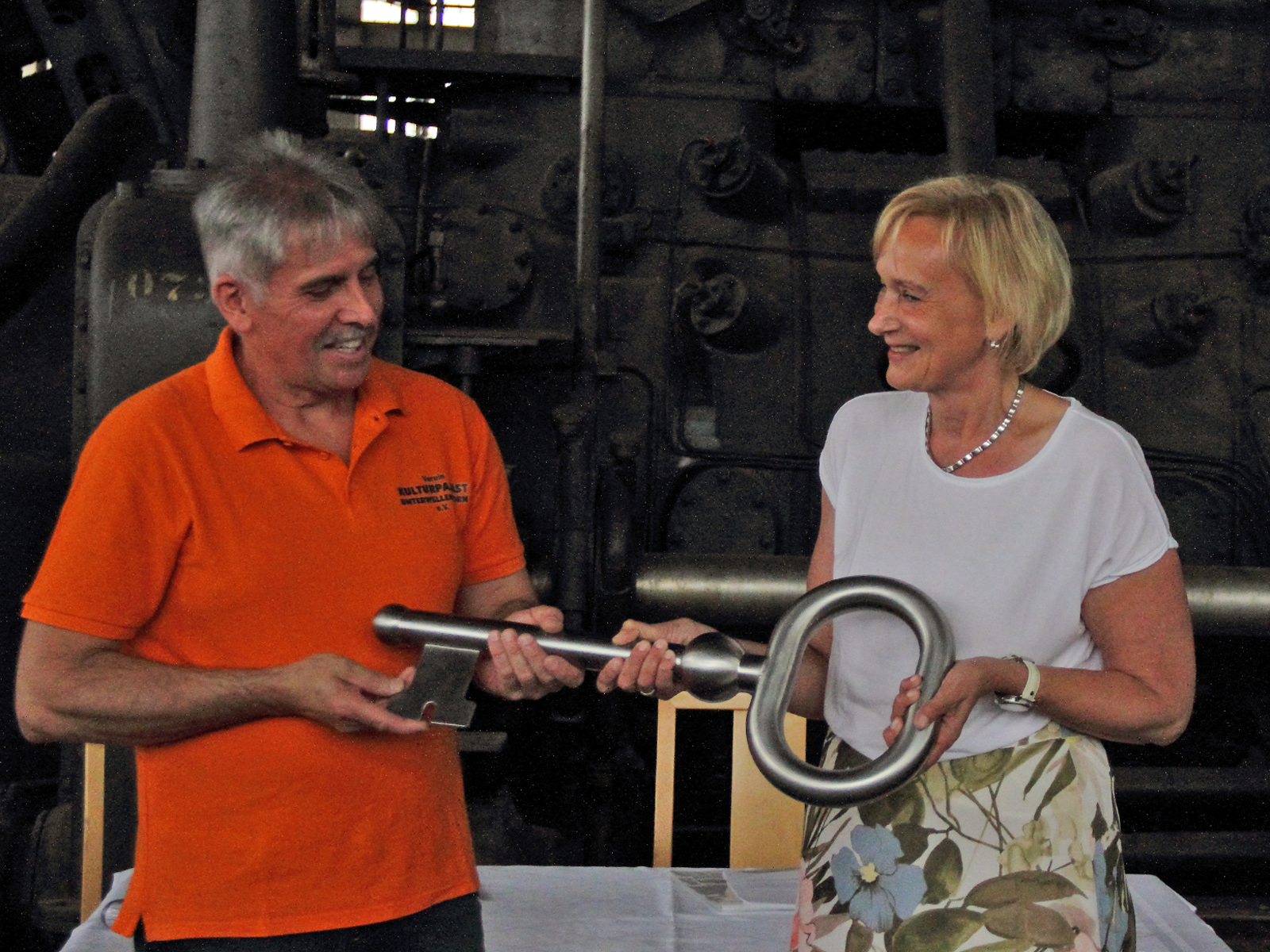 Link to the owner of Gasmaschinenzentrale: State Development Corporation of Thuringia
 The movie is in german language without subtitle.